2. Full parameters list panel with the Cut grade, Clarity and Color is available

Full parameters list with the Cut grade is displayed in the Diamonds parameters panel.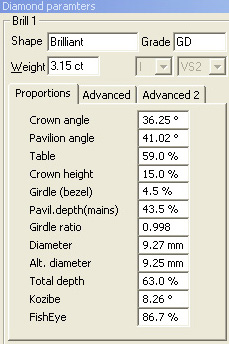 Note. For the proper cut grade indication the corresponding set of Appraiser files must be included with OxygenViewer folder and properly loaded in winoxygen.bat. OxygenViewer installation package installs the standard set of the Appraisers as included with the standard OxygenServer/OxygenInclusion. If you need customized appraisers in the OxygenViewer then please use them the same way like you do it for OxygenServer / OxygenInclusion.
Diamond Clarity and Color is available in the Diamonds parameters panel and also in the Tree.

Note. If you make allocation with the custom price-list that contains non-standard set of clarity and color grades then this custom price list should be included with OxygenViewer.
It is also possible to create the shortened or formal version of pricelist with only definitions of clarity/color/fluorescence grades. See the file FormalPrice.txt included with the standard OxygenViewer as example.