Start the program Helium Rough
Switch on scanner and computer.
Double click on a Helium Rough shortcut to start the program.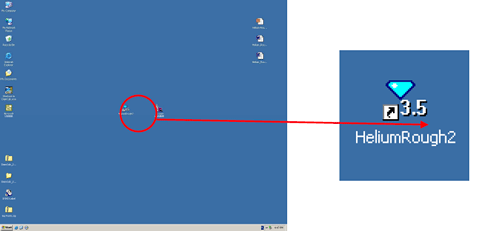 Note. Name of shortcut and number of version can be different from the screenshot above.
The Helium Rough program opens.

Note. Press F4 twice if color of interface of program is inverted, not the same as in illustration.
Check connection of the scanner
Make sure all lamps on scanner and block of power glow by green lights. It means that equipment is switched on.
To check connection of equipment to computer:
If DISPLAY window does not contain information like above, it means that error was occurred during connection to scanner.
In this case:
Switch off scanner
Close program via button EXIT in dropdown main menu

Check all cables connections between scanner, block of power and computer
Switch on scanner and computer once again
Check connection to scanner as described above
If error repeats again - call to service center.