How to do Laser Marking?
The Helium Rough allows to make laser marking precisely and safety. Special algorithm checking shift of stone position during laser marking.
The system has a lot of custom options provided creating different burning line for any choices.
To make laser marking:
1. Put the stone back on the stage of Helium Rough scanner. The stone must be painted by whitener!
2. Open the Optimized Pacor client mmd project from the computer and select solution you have already decided to make a marking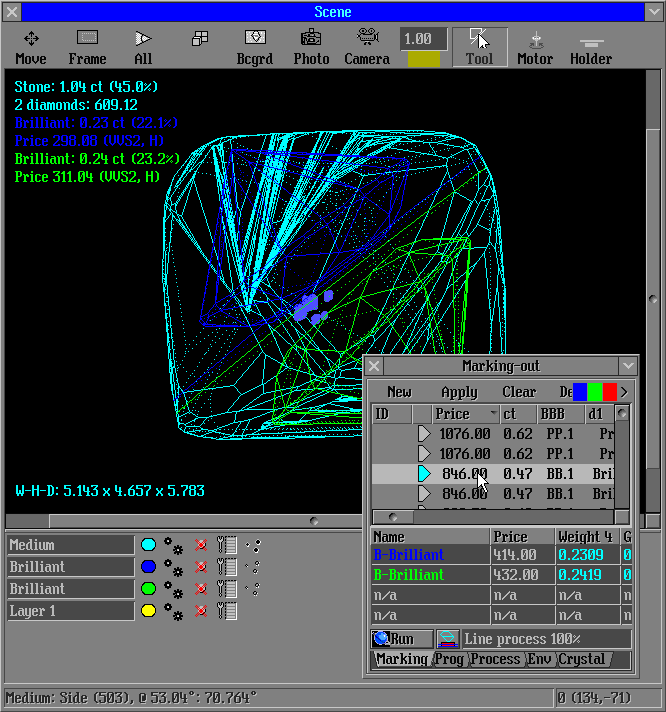 3. Now open tab Process of the Marking-out panel
4. Select the option Line then left click on the Line, so you will get this window: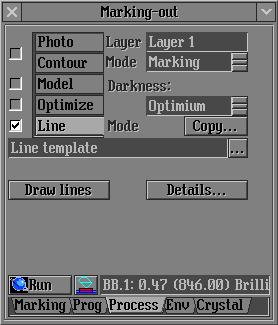 5. Select strength of burning line in a field Darkness:
Fast – quick method of burning line, but line will be faded
Optimum – the method is medium by time, allows to get medium of strength line
Dark – long method of burning line, but allows to get thick and very good visible line
6. Press button ... on right side of Line template field

7. Line template window opens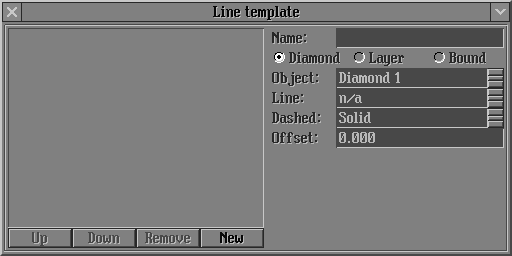 8. Press button New to make new marking line: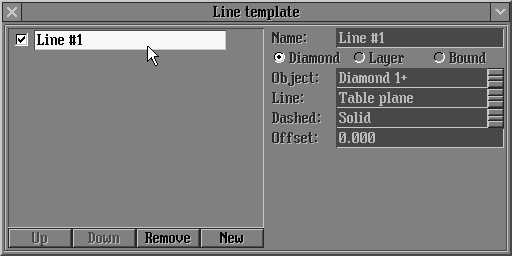 9. Select options for new created marking line Line #1:
Type some name of template in section Name or use default name
Select template of marking line: Diamond, Layer or Bound
Define object in section Object

For example, if template Layer is selected and there are three lines - Layers in solution then:

if select, in section Object, Layer 1+ it allows to burn all three line: N1, N2 and N3;
if select Layer 2+ it allows to burn only two line N2 and N3;
if select Layer 2 it allows to burn only one line N2;
but if you need to make line N1 and N3 you should create two different Lines and for each Line select in section Object: Layer 1 and Layer 3

Select type of object in section Line:

For template Diamond the follow types of objects are available:

Culet form
Culet plane
Table plane
Girdle form (crown)
Girdle form (pavilion)
Girdle plane (crown)
Girdle plane (pavilion)
Girdle profile (crown)
Girdle profile (pavilion)
Girdle curve (crown) - obsolete*
Girdle curve (pavilion) - obsolete

*We recommend to use the new types of marking line Girdle profile instead of Girdle curve

For template Layer:

Top line
Bottom line
Medium line
Both lines

For template Bound only one type is available - Medium line. It is just a bound line. Read detailed description here.

Select pattern of drawing line in section Dashed:

| | |
| --- | --- |
| Solid | |
| Dotted | |
| Dashed | |
| Long Dashed | |
| Double Solid | |

Set offset (mm) of burning line from model in section Offset (0.100 means 100 micron).

10. We recommend to use option Preview before burning lines by laser.
To have a possibility to use panel Preview before marking:
Press button Details... in the panel Marking Out / Process
Panel Line data details appears
Select option Preview lines
11. Now press button Draw lines in the panel Marking-out to start laser marking process.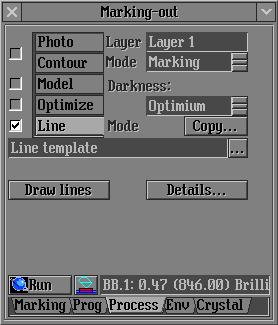 Preview window will appear if you select option Preview in advance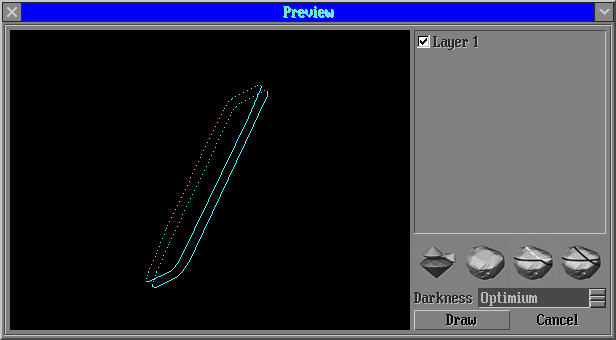 The panel contains 4 buttons:

visualization polished diamonds


visualization rough model


automatic remove lines from layer which intersect polished diamonds


restore original lines
For example, press button

to see diamonds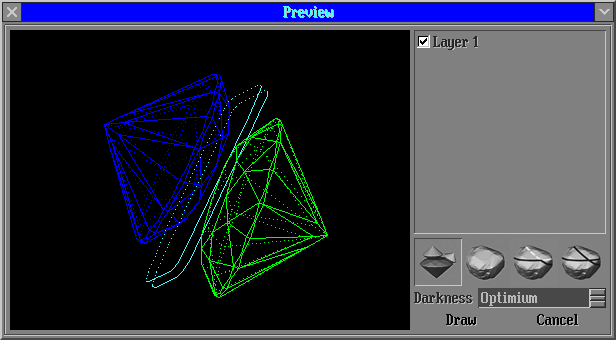 Note. There are marking line adjustment algorithm in the Preview panel. The algorithm allows remove extra marking line. For example, if you have the solution with three diamonds and two planes. Read detailed description of marking line adjustment algorithm here.
12. Examine the preview lines and make corrections by marking line adjustment algorithm if it is required.
13. When every things is ok press button Draw. Burning process will start.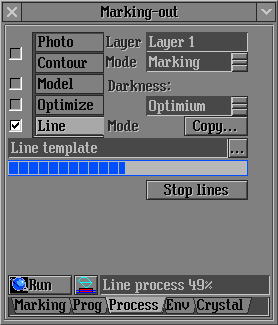 Batch mode of laser marking allows to burn a set of marking lines in one time.
14. When laser marking process finish make checking of correct burning:
Switch on live video by button

Rotate the stone and be sure new created real marking line on stone are correspondent to marking line of 3d model:
| | |
| --- | --- |
| 3d model of Layer 1 switched off | 3d model of Layer 1 switched on |
| | |
15. Remove whitener from stone's surface.
16. Look through loupe to see the stone and its marking.

17. You can also take additional help of Microscope to see the Planning of the stone.

18. That's ALL.