Optimization process
The Helium Rough & Pacor software is specifically designed to accurately suggest the most profitable planning option in value recovery terms.
Please visit our Gallery to see perfect solutions obtained by the optimization software.
For example, the solution for rough 24,56 ct: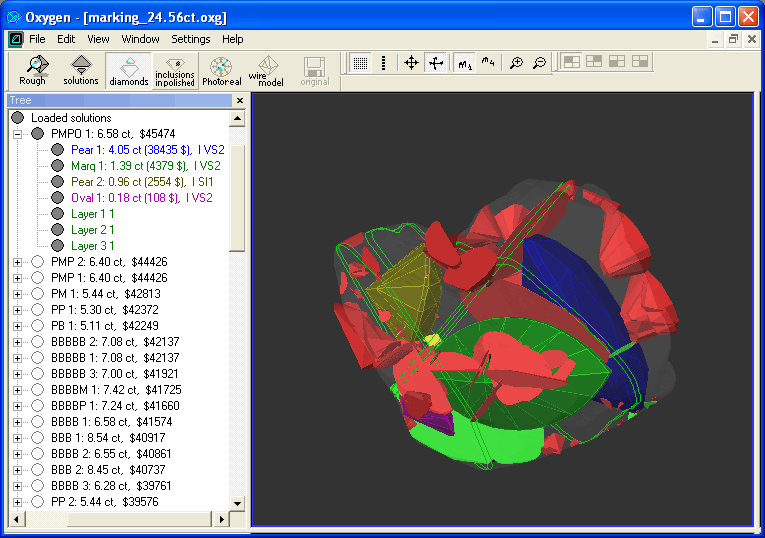 In this section you will find description how to do optimization. Description about how to create and import inclusions please find here.
Running the Optimize Program for Planning
1. To begin optimization process:
Open panel Marking-out and select tab Process
In tab Process check option Optimize and uncheck other options
Click on Optimize, so you will get this window:
2. Now select algorithm of optimization:
Right click on field on right side from section Optimize

Select algorithm of optimization. Read brief descriptions of algorithms here

Note. If there are no any algorithms in list, but you sure it is already installed:
click on cross of Marking-out panel and select Load default methods from menu

Read detailed description how to install set of optimization algorithms here
3. We recommend to start optimization process with algorithms Single or Complex. Numbers in names of algorithms 0.8, 0.7, 0.6 mean the year of creating the algorithm. In most cases is better to use the latest version.
4. If 3d model of rough contains inclusions:
Open tab Env in Marking-out panel. There is a list with inclusions that will be used in allocation process.

The inclusion have different colors. It is correspondent to different allocation modes:

Green inclusion - This inclusion is allowed to be inside an allocated diamond, the only price of affected diamond is considered
Yellow - Smart option. Allocation algorithm considers both options (when inclusion is inside and outside of allocated diamond)
Red - Inclusion is not allowed to be inside allocated diamonds

There are several ways to select desired allocation mode for inclusions:

select inclusion in tab Env and change its color by buttons
change color of inclusion in Scene by Tool
5. Press button Rough in dropdown top menu to open Rough classification panel:

Rough classification panel appears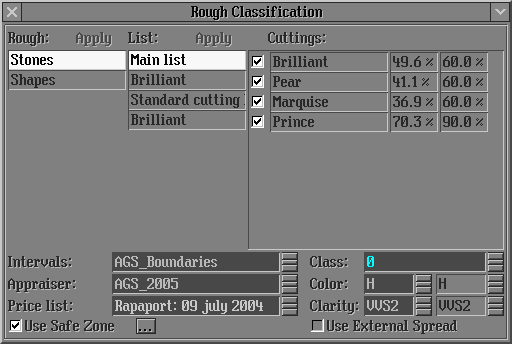 Operations with optimization algorithms require correct appraiser and price lists according to manufacture needs.
Select appraiser and price list in sections: Intervals, Appraiser and Price list in the Rough classification panel.
Attention! The appraiser and price lists must be loaded in advance into program. Only after that it is available in sections: Intervals, Appraiser and Price list !
Select Class, Color of future diamonds. Define Clarity that a future diamond will have if no one of inclusions is inside a diamond.
6. When you set all options go to Marking-out panel tab Process.
Press button Run to start optimization.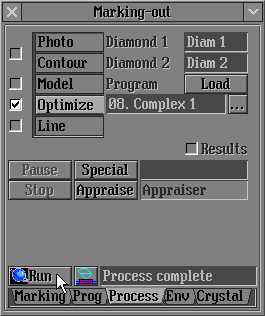 Wait..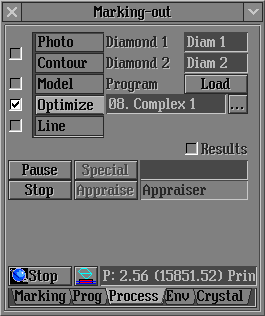 New solutions appears in tab Marking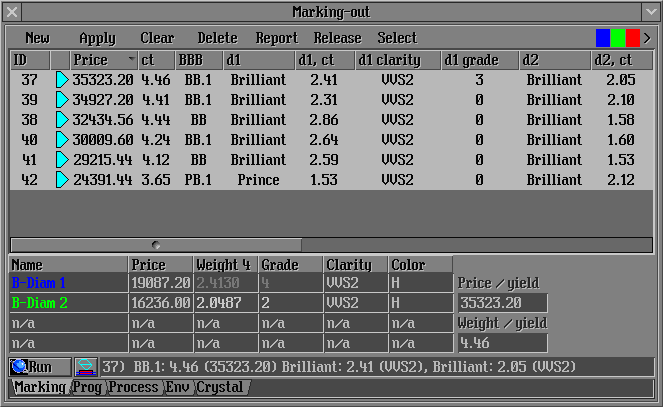 Read description of interface panel Marking-out tab Marking here
7. The software allows to create rough reports for solutions and polish reports for optimized diamonds.
8. There is an option Tool. It is created for advanced facilities of work with local algorithms of allocation and for manual improving solution. The option is very useful during work with medium and large stones which required plan for several, three and more diamonds.