Please recommend proper instruments and software for cavity mapping and planning of rough diamonds.
For cavity mapping and planning you could use the Helium Rough scanner with its software.
OctoNus developed a dual laser cavity mapping system that gets to the bottom of more holes than the single red laser light system as shown in the example below.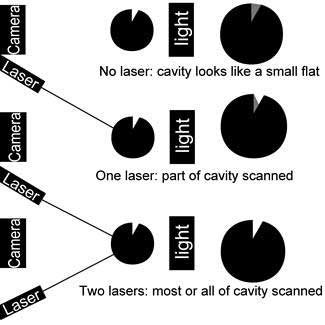 Read more about cavity mapping and dual cavity mapping
Also for creating Hole inclusions you can use MBox. It allows creating Holes by M-Box photos with small depth of field by using special algorithm.
And the new Oxygen Microscope method of Hole inclusions allows to create Holes by photos from Helium Rough or Oxygen Microscope with deep depths of field.