What graphics card I need to view and record images and video in HDR ?
To enable HDR rendering we recommend to use video card NVIDIA GeForce 6600 or higher, ATI X1300 or higher.
Please test you GPU (Graphics hardware) with DiamCalc – Graphics Compatibility Evaluator utility. This utility will attempt to render a reference data set in order to check if your Graphics hardware is compatible with new OctoNus HDR rendering engine.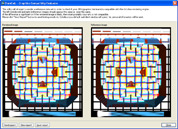 Please notice, even if you get negative test result the normal non-HDR  renderingis still available in DiamCalc 3.2. Most of existing windows computers are compatible with non-HDR OctoNus rendering engine, though you can test it with DiamCalc demo. DiamCalc demo is available on download page