ViBox 3.1
May 27, 2015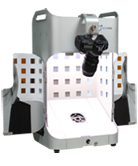 Video Box allows the manufacturer to prepare images and movies for the diamond and diamond jewelry.

ViBox produces high quality images, especially video. Images tell only half the story, as most of the beauty attributes are dynamic and can be appreciated in stereo environment. So a dynamic display of the polish diamond can greatly improve on-line apprising.

ViBox 3.1.32 (53 Mb) is an installation program for Windows. It should be installed under administrative account.