How to calculate the exact weight?
To estimate the weight of the diamond with DiamCalc, one should choose a cut style and input the main parameters (e.g. the diameter).The stone weight is promptly displayed in the relevant field. The other parameters should be specified for more accurate weight estimation.
Let us see how it is done. Start DiamCalc and look at the panel with parameters. All parameters have some values. Marquise cut is selected initially (see "Shape and cut" drop-down box). Initial diameter of the stone is 6.00 mm (assume this is what we need). Now we can enter all parameters that we know to describe the diamond as precisely as possible. To change a parameter, select a value in the corresponding box by the mouse and type in a new value, pressing Enter at the end.
For example, let us set a different value for the total depth. Select a field right to "total depth" caption. At this moment, the panel with diamond parameters should look like the following: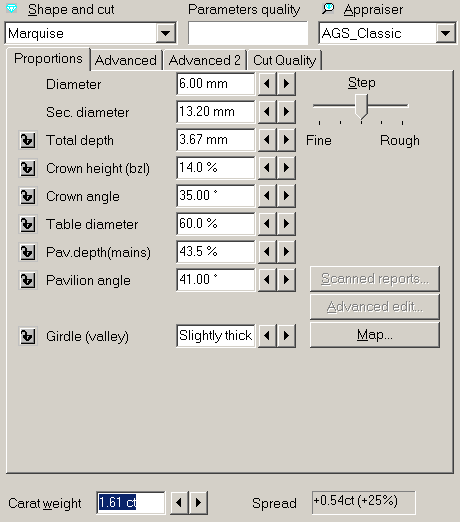 The carat weight is 1,61 ct. The total depth is 3,67 mm.
Then we change the total depth from 3,67 mm to 3,87 mm, the carat weight will be 1,68 ct.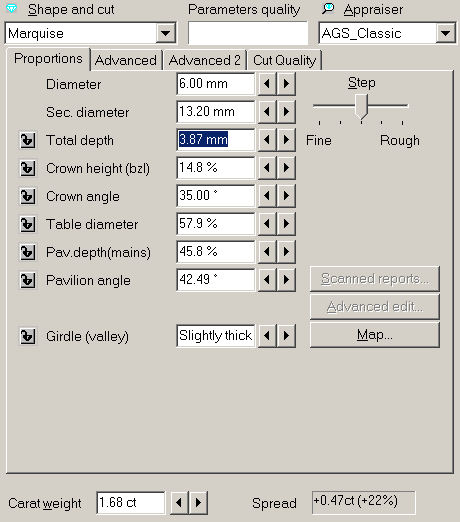 Note that the diameter remains the same (6 mm), both crown and pavilion heights have increased proportionally to accommodate to a total height increase, and the carat weight has been recalculated using a new piece of information: 1.68 ct.
Other parameters can be changed the same way: select the corresponding value, enter a new one from the keyboard and press Enter key.
If a meaning of some parameter is not clear, move mouse cursor to the corresponding box and leave it there, not pressing any keys or buttons. In couple of seconds, a hint with the description of the parameter will pop up. For instance, moving the mouse cursor to the value of "Diameter" parameter will produce the following effect: