How to import and edit new shapes?
DiamCalc allows users to import cuts from another programs (note, this feature is available only with the registered version). At this time the GemCad ASCII files format is supported. You can design your own diamond shape or get one of the 3700 unique faceting designs form the DataVue2 library and see its appearance with the DiamCalc. You can even adjust the size of the diamond and position of every facet.
Importing faceting design from GemCad ASCII file
The menus command "File"-"Import diamond"-"From GemCad .asc file" activates "Open file" dialog allowing you to choose the file from where to import the cut. If importing is successful then panel with the facets info and the diamond image appears.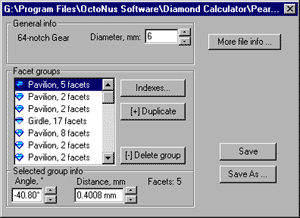 With the panel you can adjust the diamond size and the facets position. To adjust the diamond size use the "Diameter, mm" edit. The value of this parameter is the minimum diamond measurement in the girdle plane. The facet planes are grouped as they were grouped in the source file. The list of the groups is in the "Facet groups". With every group you can change the elevation angle and the distance to the facet plane from the center. The picture explains the meanings of the angle and distance. The planes in the group differ in indexes. The index of the plane defines the meridian angle of the plane's normal vector. To view, adjust, add or delete indexes in the group choose the group in the list and press "Indexes" button and "Facet group Indexes" panel appears. After editing faceting design you can save it to the file with the "Save" or "Save as..." buttons. By clicking the button "More file info" you activate panel where comments and additional fields are placed.