Rapaport Diamond Report October 3, 2008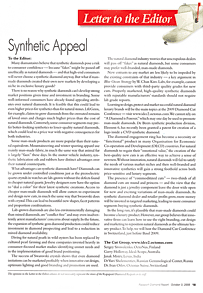 Many diamantaires believe that synthetic diamonds pose a risk to consumer confidence - because "fakes" might be passed off unethically as natural diamonds - and that high-end consumers will never choose a synthetic diamond anyway. But what if man-made diamonds created their own new markets by developing a niche in exclusive luxury goods?
There is no reason why synthetic diamonds can't develop strong market positions given time and investment in branding. Some well-informed consumers have already found appealing attributes over natural diamonds. It is feasible that this could lead to even higher prices for synthetics than for natural stones. LifeGems, for example, claims to grow diamonds from the cremated remains of loved ones and charges much higher prices than the cost of natural diamonds. Conversely, some consumer segments may prefer better-looking synthetics to lesser-quality natural diamonds, which could lead to a price war with negative consequences for both industries.
Some man-made products are more popular than their natural equivalents. Mountaineering and winter sporting apparel use mainly man-made fabric, in much the same way that animal fur is largely "faux" these days. In the motor vehicle industry, synČthetic lubrication oils and rubbers have distinct advantages over their natural counterparts.
What advantages can synthetic diamonds have? Diamonds can be grown under controlled conditions just as the piezoelectric quartz crystals in watches are lab-grown without the defects found in cheaper natural quartz. Jewelry designers now have the option to "dial a color" for their latest synthetic creations. Access to cheaper man-made diamonds will allow cutters to experiment and design new cuts, in much the same way that Swarovski does with crystal. This can lead to beautiful new shapes, facet patterns and proportion combinations.
Lab-grown diamonds are also less environmentally damaging than mined diamonds, are "conflict free" and may even inadverČtently arrest manufacturers' concerns about supply. In the future, the expansion of synthetic gem diamond production could reduce investment in diamond prospecting and lead to a reduction in mined diamond availability.
Diving for natural pearls in wild oysters has been replaced by cultured pearl farming and these companies invested heavily in consumer-focused market studies identifying unmet needs and in the implementation of good brand positioning.
The success of Swarovski crystals shows that even diamond imitations can be marketed profitably when innovative cut design, optimum lighting and good branding and promotion are used.
The natural diamond industry worries that unscrupulous dealers will pass oft "fakes" as natural diamonds, but some consumers may prefer well-branded, man-made diamonds.
New entrants to any market are less likely to be impeded by the existing constraints of that industry - a key argument in Blue Ocean Strategy by W. Chan Kim. Labs, for example, cannot provide consumers with third-party quality grades for new cuts. Properly marketed, high-quality synthetic diamonds with reputable manufacturers' standards should not require lab grade reports.
Learning to design, protect and market successful natural diamond luxury brands will be the main topics at the 2009 Diamond Cut Conference - visit idcc2.octonus.com. We cannot rely on "A Diamond is Forever," which may one day be used to promote man-made diamonds. De Beers synthetic production division, Element 6, has recently been granted a patent for creation of a logo inside a CVD synthetic diamond.
The diamond engagement ring has become a necessity or "functional" product in many Organisation for Economic Co-operation and Development (OECD) countries. For natural diamonds to regain their "emotional value," the creation of the best-quality new cuts is an effective way to achieve a sense of newness. Without innovation, natural diamonds will fail to satisfy the needs of various market niches and then well-branded and innovative synthetics will gain a strong foothold across both price-sensitive and luxury segments.
The presence of "commoditized cuts"- two-thirds of all diamond cuts are round and princess - and the view that the diamond is just a jewelry component leave the door wide open for new and exciting variations of man-made diamonds. As synthetic diamond dealer and retailer profits grow, more money will be invested in targeted marketing, leading to more consumer segments buying synthetic diamonds.
In the long run, it's plausible that man-made diamonds could become a luxury product. However, our group believes that innovative firms can learn how to use the right branding, cut design and marketing to reposition natural diamonds as the ultimate luxury product. To help, we will host the Diamond Cut Conference in Switzerland, just before Basel 2009.
The Cut Group
Sergey Sivovolenko, OctoNus, Finland
Garry Holloway, Ideal-Scope, Melbourne, Australia
Janak Mistry, Lexus, Surat, India
Dr Yuri Shelementiev, Russian Gemmological Center, Moscow, Russia
Dr Ivan Orlov, Octonus Suisse, Switzerland