20.08.2015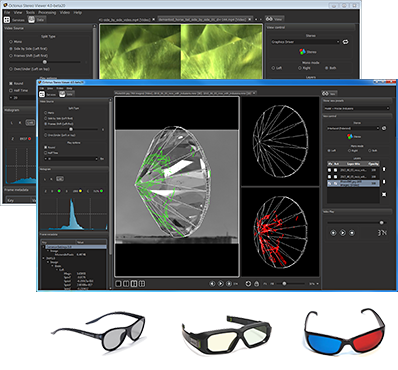 Stereo Viewer 4
Formerly known as Stereo Movie Viewer
What is new:
Support For Most Modern Video Codecs And File Formats

MPEG-2, DivX, H.264, MKV, WebM, etc

Optimized For Viewing And Analyzing Microscopic Videos

Frame-by-frame video navigation, smooth zoom, panning and comparison

Supports All The Current Stereo Display Technologies

Red-blue glasses, interlaced polalized monitor and TV, NVIDIA 3D Vision, LG & Samsung TV stereo techology, anamorphic stereo, etc.

3D Models Over Video

3D Models can be loaded and viewed above microscopic videos

Includes Image Analysis And Measurement Tools

Stereo Viewer is built on extensible DM platform, which allows for custom instruments and other plugin develoment

Cooperative Mode

Stereo viewer includes cooperative mode plugin, which allows team work on any content by means of cloud technology.
18.12.2012
Pacor Client 5.6
What is new: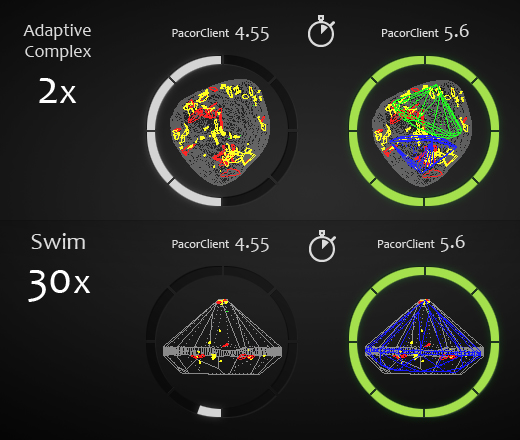 12.10.2012
Helium Polish 5.5
What is new: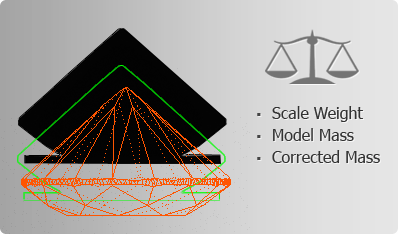 Consistency of Model Masses was Improved
Changes in Motor Initialization
Vacuum Pump Warm-Up
Corrected Mass Parameter in Full Reports
Photos Recording during Scanning. Model Building by Photos

Photos Recording during Scanning
Model Building by Photos

New Optimization Algorithms in Recutting Process
Yield Calculation in Recutting Process
Model Export to ASCII
Parameter Density in Reports
Parameters Real Weight and Calculated Weight are Renamed in Reports
New Pavilion Height(%) and Crown Height(%) Pictures in Any Cut Report
10.02.2012
Oxygen Microscope and Oxygen Inclusion 3.3
What is new: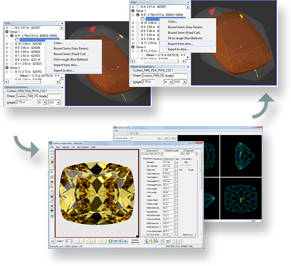 New Export and Import of DMC files


It is especially useful for work with fancy colored cuts. In the beginning of optimization process, a preliminary solution is allocated in the Oxygen. Then allocated diamond from the Oxygen is passed into the DiamCalc Software for analysing and optimizing its colour.

If, in the course of operation with a polished diamond in the DiamCalc software, its optical behavior was improved, then the modified cut saved in the DMC format that can be imported back into its original Oxygen solution. In the Oxygen a final optimization of polished diamond is performed (finding maximum of weight for obtained proportions).

More precise definition of diamond density
Reports update
Linked appraiser. Update active appraiser
Smoother lighting control
Bugfix
06.09.2011
Helium Polish 5.4
What is new: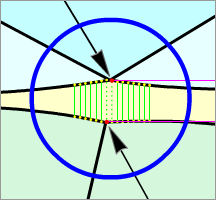 More precise definition of diamond density
New measurements of Heights for Pavilion and Girdle
New version of full report contains united together full reports for polished and semi-polished diamonds
Reports for cuttings with 10, 12 or more main facets, like Solasphera
New options for picture Profile View Report
Customization of pictures of Pear cutting
Information about quality of model and errors of building is available in program and reports
Auto save ASCII file while building of cutting
Improved building of emerald model
Improved building of cushion model
Facet's marking improvement
Fixed bug of definition of girdle center for heart
New parameters Table by Width and Table by Length
07.06.2011
Stereo Movie Viewer 2.17 minor update
What is new:

Minor user interface improvements, including - XP/Win7- styled controls
Frame-by-frame movement by moving of mouse
Restructuring of application menu
Fixed bug
14.05.2011
Oxygen Microscope and Oxygen Inclusion 3.2
What is new: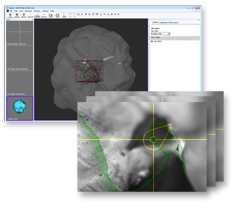 Automatic creating 3D models of cavities
New automatic cavity's allocation tool allows creating surface's cavities that have not been detected by standard Shadow and LM methods and do it automatically. The new tool contains easy-to-use and convenient interface, works fast and accurate. After 3d model of cavity is created it will be cut off from the 3D model of rough diamond. So 3d model of rough became more precise now.
Improvements of autoexposure algorithm
The autoexposure algorithm reduces flickering for short exposures and offers superior image quality due improving of convergence criteria.
64-bit Windows support
Now M-Box works with 64-bit Windows 7 and 64-bit Windows Vista with new release of Oxygen Microscope.
New Polish reports templates are available in the Oxygen Software
It has the advantages for analyzing girdle asymmetry and removing girdle asymmetry came from Helium Polish.
Download Oxygen Microscope
Download Oxygen Inclusion

09.04.2011
DiamCalc Stereo Movies of Diamonds with Realistic
Rendering of Inclusions and Depth-of-Field Effect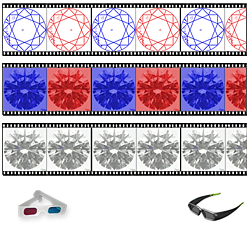 The next versions of DiamCalc will be able generate DiamCalc stereo movies of diamonds with realistic rendering of inclusions and depth-of-field effect, lens or human eye modeling. Now please see the examples of future DiamCalc FLM stereo movies.
Download examples of new DiamCalc stereo movies
The new movies can be played by Stereo movie viewer.
08.04.2011
Stereo Movie Viewer 2.16
Formerly known as Stereo Film Viewer
The Stereo movie viewer allows playing movies and stereo movies in FLM format or series of photos in JPG or BMP formats.
What is new:
The new Stereo movie viewer supports playing DiamCalc stereo movies with realistic rendering of inclusions and depth-of-field effect, lens or human eye modelling. At the moment versions of DiamCalc available for download do not support rendering inclusions and export of FLM stereo movies. It is coming on the next versions. But you can see examples of new DC stereo movies here.
Support for NVIDIA® 3D Vision™ and 3D Vision™ Pro tecnhology. It allows to watch stereo movies on NVIDIA® 3D Vision™ supported hardware in full-screen and windowed display mode. Windowed mode is supported for NVIDIA® 3D Vision™ Pro with NVIDIA® Quadro® technology.
User interface improvements
Additional movie visualization options: 50%, 100%, 200% frame scale
Added split types:

Side by Side - In case of this split type the initial frame is divided in two images, for left and right eye, by vertical line.
Frame Shift - In case of this split type the images for left and right eye are presented from the stream of frames with some shift. For movies with rotating objects
Over / Under - In case of this split type the initial frame is divided in two images, for left and right eye, by horizontal line.

Added Full screen mode
Changed names of parameters for stereo movies:
A to Frame Shift, D to Frame Distance
More details and examples of stereo movies
29.10.2010
Helium Polish 5.2 beta
Previous version Helium Polish 5 (build 5.1.15) contains some critical errors, find their description below. We have fixed the errors urgently and offer to download and use new version Helium Polish 5.2 beta (build 5.2.2.1).
We apologize for inconvenience.
Please pay attention that this is a beta version of program. It is published to fix errors. Now we are working on new version of Helium Polish.
Fixed bugs
Missing data in step cuts
Wrong Width value for Pear type cuttings
Changes in new version
Changed names of some new pictures and parameters for girdle asymmetry