Purpose
The RORC system is a tool for performing Remote Online Survey Research for a WWW server. The system allows interactive animated survey and analysis of attendance at web pages and links of the Microsoft IIS server-equipped website. With the system, one can put a questionnaire on any web link from a remote computer while not changing web pages themselves. The information on visiting particular pages, links as well as responses to the forms is stored to a Microsoft SQL Server database. Answers to the simplest questions are displayed in histograms.
The system is implemented using the client/server technique as a 3-tiered application. The client code is executed on NeXTSTEP operating system, which belongs to the UNIX family.
The program deals with arbitrary static HTML pages. No special processing of the existing web pages is required. Renewal of the data can be made both automatically and interactively. The special mode exists, allowing to review the history of website utilization in animated manner, given any interval of time. Operator can choose proper frequency and discreteness of the data.
The location of a form in the web structure can be set to vary randomly, which can help in performing more representative questioning of the website visitors.
The program offers obvious and natural representation of website utilization using color map, which can be easily adjusted with the Color Map panel.
An original representation of the general web document structure is used.
Convenient graphical user interface allows effective use of the screen work area.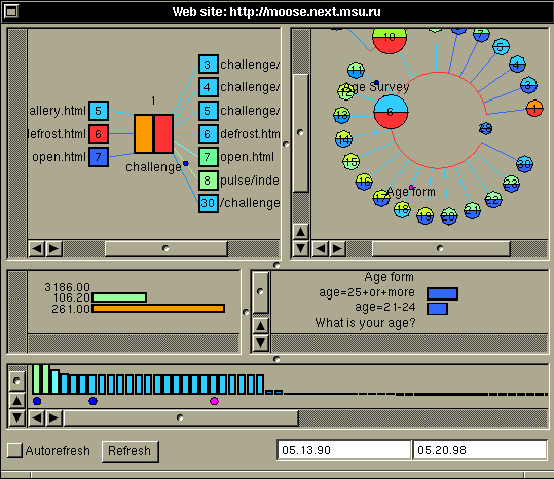 Future planning
After migrating this product to Windows NT/95, it will be integrated with the Microsoft FrontPage. This will make it possible to localize the work of website editing and making Online Survey Research in a single remote workstation. By this, the production cycle of advertisement preparation will be greatly reduced, while selectivity and efficiency will improve. The system installation and administration procedures will also become much simpler.
Several data analysis features are planned, including neural network processing of the visitors flow structure.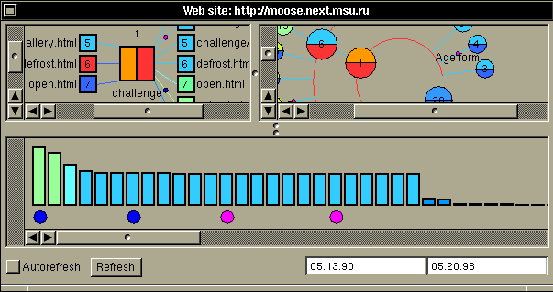 You can download the self-extracting tutorial for RORC (189 Kb)