Sample 2 - "KB7"
Here is the example with "KB7" diamond*. The real photo of the diamond made with Holloway IdealScopeŽ on the left picture. The image of this diamond generated by 3DCalc Software from 3D-model obtained by Helium scanner on the right picture.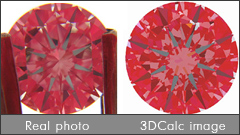 Download file with 3D-model of the stone kb7.gem.
*More examples with "KB7" diamond on the Helium products feature page.