Operating system

Microsoft Windows

Computer and processor
Personal computer with an Intel Pentium 233 MHz or faster processor is requirement. Intel Core 2 class is advisable. for fast calculation of photorealistic images.
Memory
128 megabytes (MB) of RAM minumum. 1 GB recommended.
Hard disk
25 megabytes (MB) of available hard-disk space.
Display
High-color Super VGA (800 x 600 x 16bit) or higher-resolution monitor.
Video card

VGA card with OpenGL support.

To enable HDR rendering NVIDIA GeForce 6600 or higher, ATI X1300 or higher are required.
We recommend to use at least NVIDIA GeForce 6800, ATI X1600.

Other
Microsoft Mouse or compatible pointing device;
Microsoft Word 97 or later installed for viewing and printing reports;
Anaglyphic red-blue glasses for viewing red-blue stereo images.
HDR rendering
To enable HDR rendering we recommend to use video card NVIDIA GeForce 6600 or higher, ATI X1300 or higher.
Please test you GPU (Graphics hardware) with DiamCalc - Graphics Compatibility Evaluator utility. This utility will attempt to render a reference data set in order to check if your Graphics hardware is compatible with new OctoNus HDR rendering engine.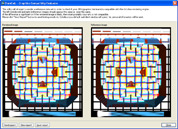 Please note, even if you get a negative test result the normal non-HDR rendering is still available. Most existing windows computers are compatible with the non-HDR OctoNus rendering engine, which you can test with GemAdviser itself.