1. New parameters for Step Cut / Triangle
Diameter (side based) - length along the normal to the side of triangle (figure 1, 2, 3)
Table – table length along the correspondent diameter (figure 1, 2, 3)
Width – minimum Diameter (figure 4)
Length – maximum length in the direction +/-10 degree from the normal to Width (figure 4)
Width-wise table - Table / Width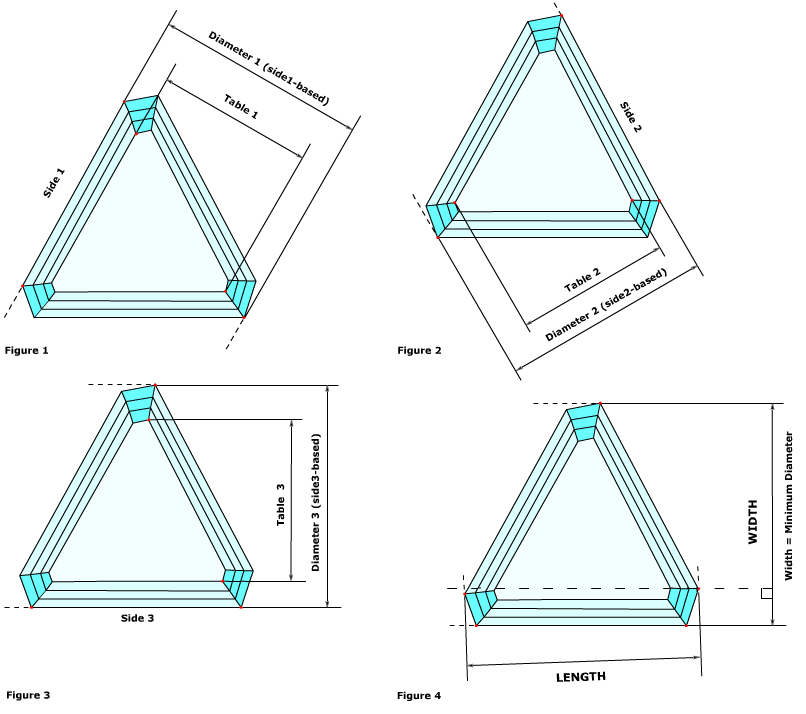 Please see example of new report for triangle:
2. Parameters of curve, head, point and wing facets and illustrations are available in reports for polished rounded fancies
New parameters angles, azimuth and height of Curve, Head, Point and Wing facets and illustrations with facet markings are available in the polished reports for rounded fancies.
Sample of illustration: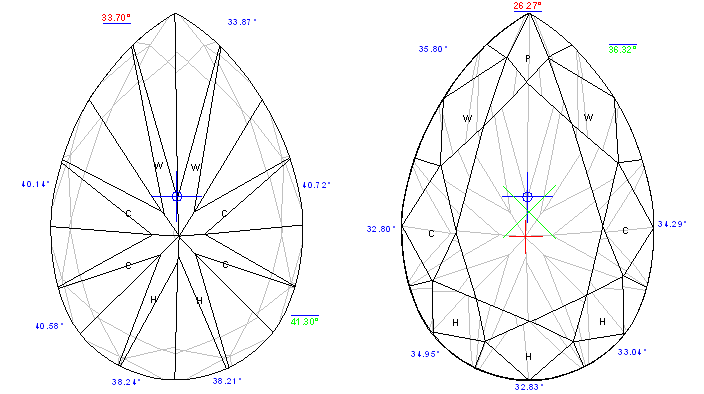 H - Head
C - Curve
W - Wing
P - Point
*To switch of marking of facets set parameter FacetClassShow=0 in INI file.
Full list of new parameters
Crown curve angle
Crown head angle
Crown point angle
Crown wing angle
Crown curve azimuth
Crown head azimuth
Crown point azimuth
Crown wing azimuth
Crown curve height
Crown head height
Crown point height
Crown wing height

Pavilion curve angle
Pavilion head angle
Pavilion point angle
Pavilion wing angle
Pavilion curve azimuth
Pavilion head azimuth
Pavilion point azimuth
Pavilion wing azimuth
Pavilion curve height
Pavilion head height
Pavilion point height
Pavilion wing height
Please see examples of new reports for rounded fancies:
Note: Crown mains, nock and other angles, azimuths and heights are obsolete. But you can find these parameters in full report for rounded fancies.
3. Facets marking algorithm is improved
Facet types Curve, Head, Point and Wing are defined more precious for most of rounded fancies.
4. Colour of pictures in reports and export data is defined in INI files
United template for Color and B&W report is used in new version of the program instead of two templates for Colour and B&W report. The colour of pictures is defined in INI files now.
To output B&W pictures set parameter ColorReport=0 in INI file.
Colour pictures are exported in the reports by default. Parameter ColorReport=1
The example of new template with INI files.
Download new set of report templates