Helium Polish creates reports for round brilliant cut, marquise, oval, pear and princess types of cutting and reports for semipolished diamond and for arbitrary cuts. Software allow creating reports based on templates in the MS Word rich-text format (RTF), HTML reports, Text reports and export report data to external files for processing by third-party software.
See example of report for real diamond witch model was built by Helium system:

Illustrated_report_for_brilliant.pdf
More examples of MS Word reports:
Helium Polish Illustrated reports (one page reports)
Examples of HTML reports:
All available reports for polished diamonds are listed in the submenus of menu Report in the panel Scan polished diamond.
Menu Report contains the following submenus:
Print Report
Open Report in MS Word
Export Report Data
Formatted text report
HTML report
Export model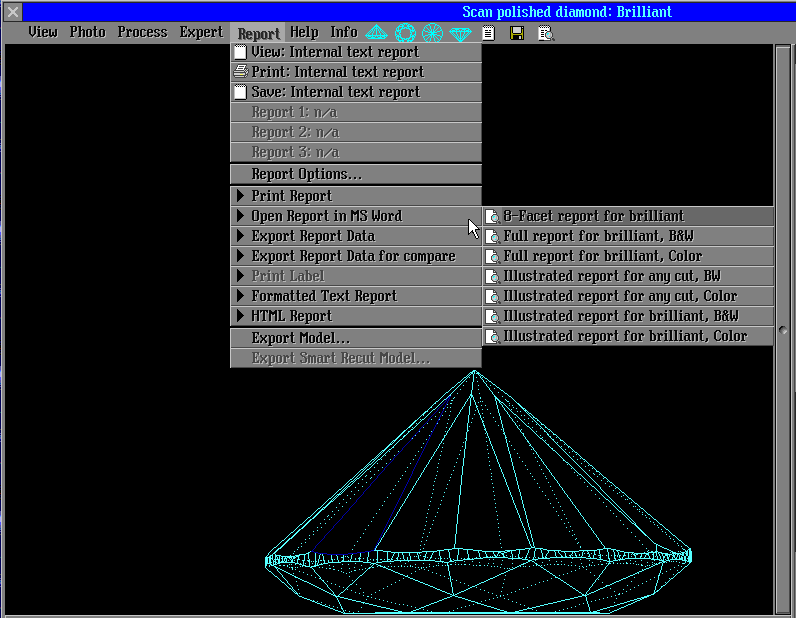 The content of submenus with lists of reports is updated dynamically. It depends on available report templates and the current choose by user or automatically by program cutting of the built model.
Create and customize Helium report templates
Several report templates in RTF, HTML and Internal Text format are included with the installation kit of the Helium software. Files related to the report creation are placed in the "Report" subfolder of the folder where the Helium software was installed. Helium users may take these templates and customize them for their needs or create new templates.
Customize MS Word report templates
Customizing internal text report template
Download
You can download Helium templates of reports from download page.