1. Constructing of some round fancy model created by asc sample is improved
| | |
| --- | --- |
| | |
| Model created in previous version 4.23 | New created model |
2. Triangle door pointer is available on the pictures in the reports
Small triangle pointer on the picture shows direction to door of Helium Polish scanner and its azimuth.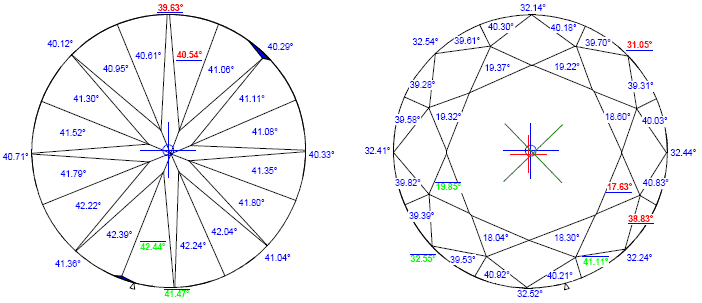 Example of report with pointer:
3. New estimations of Width and Length in the Heart report
Now Length of heart is estimated in the direction of the cut symmetry. Width of heart is extreme in the perpendicular direction to length +/- 10 degrees.
Examples of the reports:
4. Ratio (L/W) and Girdle ratio
New parameter Girdle Ratio is available in Universal report (see example of report in the previous section). Girdle Ratio and Ratio (L/W) are different parameters, but usually have equal values.
Ratio (L/W) = Length / Width
Girdle Ratio = (Diameter perpendicular to Minimum Diameter) / Minimum Diameter
Read detailed description about Width, Length and Diameters for different cuts.
The parameters output into reports with follow bookmarks:
Ratio (L/W) - [DIAMETER_RATIO]
Girdle Ratio - [GIRDLE_RATIO]
5. Crown main and corner angles, Pavilion main and corner angles are available for Radiant
At this time we have not special report for Radiant. Please use reports for Princess. To create a report select the type report Princess in the section Build / Report.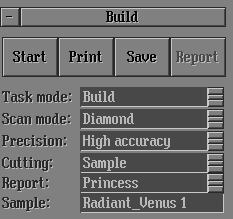 Example of the report:
6. New parameters Corner angle width / length (average, min, max) in the report for Step Cut
Parameters Corner angle width and Corner angle length (average, min, max) are available in the report for Step Cut. In the previous versions there were only parameters for every facet, but average values are absent. It is fixed in new version.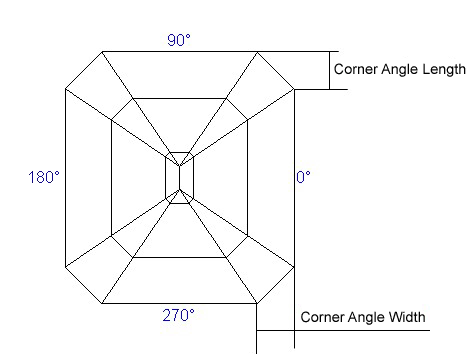 Example of the report:
7. New behavior of stone weight input in the scanning process
If switch off checkbox Stone weight, ct in the tab Scan in the panel Inner / Options
the program allows to do not input Weight before scanning (or input Weight if operator wish):