November 29, 2007 - Oxygen Microscope software version 2.1 (build 348) is released.
Locate Inclusion Tool allows to find easy and very preciously the places where Inclusions could be found. This feature makes a forecast of the positions profits where inclusion contours can be created. The estimations are based on angles and sizes of the facets. They are shown in the panel via green, yellow and red colour and length of indicators. Green and yellow as usual reveal the optimal positions for making contours. Locate Inclusion Tool works in Microscope mode only. In current version Locate Inclusion works with Point Inclusions and with Points in Flat Cracks. There is a small description of Locate Inclusion panel on the picture.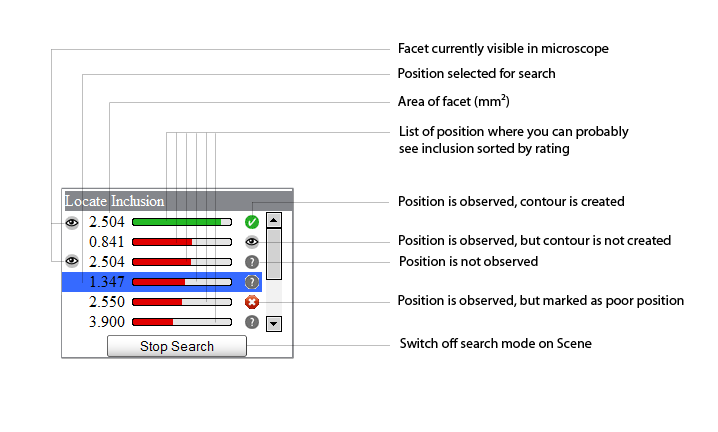 The Locate Inclusion panel is available on the right bottom corner of the program. It becomes active every time when you can use this feature: when you select ready inclusion in the list or when you find new contours for new inclusion.
Please read the example how to locate point inclusion
Blind method for creating Point inclusions
New Blind method allows to create Point inclusion without creating a photo. To create Point inclusion:
Look into your microscope;
Focus on the inclusion;
Place the center of inclusion under the microscope crosshair;
Press Point button on the M-box keyboard or Blind point button in the panel New Photo in the bottom of the screen;




Point inclusion will be created.
The 3d Points in Crack can be created the same way.
Automatic focus on Point Inclusion
New button Focus on: Inclusion allows to focus on a selected Point inclusion automatically. The button Focus on: Inclusion is available in the panel Microscope.

Cross bar is displayed in the Inclusion contour selection panel
The cross bar is available over the photo in the Inclusion contour selection panel.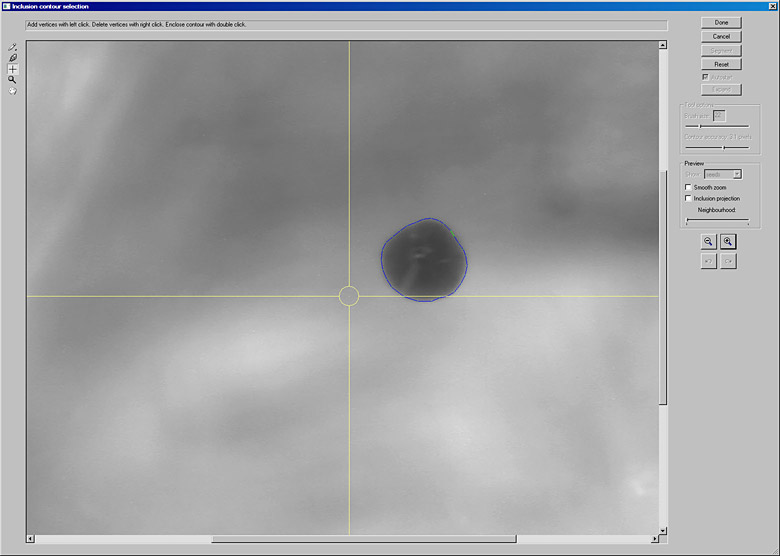 Real deviation of an inclusion localization is displayed