February 21, 2006 - Helium Rough 1:1, Helium Rough 1:2 and Helium Rough 1:4 version 3.60 are released.
The features of new release:
1. New programm panel "Status" with 4 modes
This panel is located in main menu of program Start\Status panel. Different modes has different sets of buttons in tool bar of "Scene" panel which allows to limit or enhance possibilities of work with system.
| | | | |
| --- | --- | --- | --- |
| | | | |
| Standard | Scan | Auto | Manual |
Standard mode is previous usual mode.
Scan mode contains buttons allowing only scanning and building of object.
Auto mode allows to run full optimization using set of standard automatic algorithms of allocation (optimization).
Manual mode allows to work with simplified manual algorithms of allocation (available in the Scene panel pressing left mouse button during Tool mode). These algorithms require less time and are convenient for fast allocation without taking into account of inclusions or with limitations by bound layer (see below), for fast checking of man-made solution.
2. Offline work with series of photo
To work without hardware with series of photos is necessary to switch to "Manual" mode in the panel "Status". After this operation 2 new buttons will appear in the "Scene" panel: "Photo" and "Series".
"Photo" button switches on - switches off a possibility of changing of photos (note that it starts work if user loaded at least one photo in the "Scene" panel) by mouse. So it allows rotate object by mouse and automatically load photo during rotation in accordance with position of model. For this operation it is necessary in the opened project (model should be present) to press Series button and select one bmp file from folder (all images will be loaded in the memory of system from this folder). Button "Photo" will be switched on automatically and will allow "rotating photos".
Then move mouse cursor to the border of Scene and cursor will modified for this one

(move cursor not far then 64 pixels from any border of scene). Then user can rotate model and photos pressing and holding the left button of mouse.
Please, take into account that Photo series list is not saved in mmd file and after you load new project you need load series of photos again.
New options are available during switching on "Tool" mode:
Limitation layers;
Automatically launching of algorithms "Bound Swim", "Recut" and "Swim";
Make the object active in the "Scene" by mouse;
Set "Layer" between diamonds;
Saving of laser mapping data.
3.1. Limitation layers
User has possibility to create limitation layers. To create limitation (Bound layer) inside stone is necessary to switch on mode "Tool" then right click in the Scene select "Make <Bound..."> command (Figure 1). Or click on any existing Layer and select "Add <object> to limitation".
So operator create plane. This plane is limitation, i.e. program will allocate diamonds not using space of diamond that separated by this plane.
User can make this plane active (press

in the panel of objects) and move it in necessary position (for example if he wants to not take into account part of diamond that has many inclusions).
This plane is estimated by program as red inclusion and is placed in Env section of panel "Marking-out".
User can change status for limitation (Red or Green) by the right click on plane and select of limitation status or in the Env section as during work with inclusions.
User can delete limitation by the right click on the limitation and select "Remove <Bound ...>"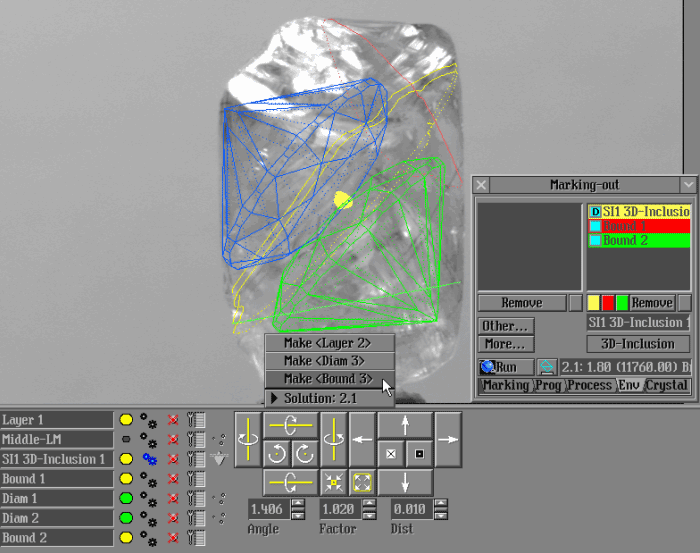 Figure 1. Applying of limitations by solution (bound layers).
3.2. Automatically launching of algorithms "Bound Swim", "Recut" and "Swim"
Automatically launching of algorithm "Bound Swim" or algorithm "Recut" during movement of object "Layer" is appeared in software. Also program has automatically launching of "Swim" algorithm during move object "Bound".
3.3. Make the object active in the "Scene" by mouse
User can make the object active in the "Scene" panel if he makes left click on the object.
3.4. Set "Layer" between diamonds
During some operations with diamonds in Tool mode operator can get solution where layer is not between diamonds. In this case he has possibility to set "Layer" between diamonds again. He need to right click on "Layer" and select "Set Layer … between diamonds" (Figure 2).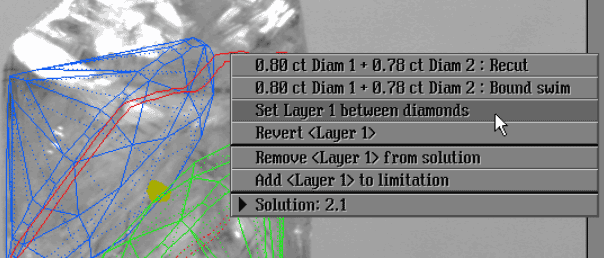 Figure 2. Set "Layer" between diamonds.
3.5. Saving of laser mapping data
Right click on the cross of panel "Scan laser mapping":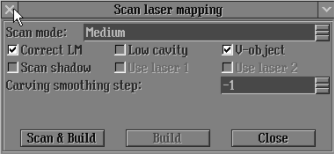 Select "Save Laser Mapping data as..."
from LM panel menu: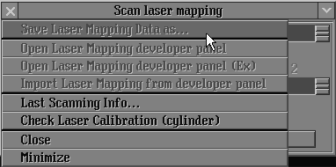 4. Improved reports for semipolished round diamonds
Facet angles and some other parameters are added into report.